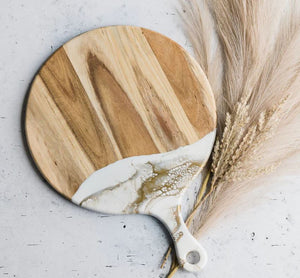 Our round cheese boards blend gorgeous acacia hardwood and an eco-friendly epoxy to create a one-of-a-kind piece of serveware for your home.  These boards are perfect for serving a group of 4-5 people.
Details & Care:
12"Dia + 5" Handle

Service: 4-5 people
Made in Canada
Hand wash all items with a cloth and warm soapy water. Dry with a towel and allow item to fully air dry overnight. None of our products should be placed in the dishwasher or washing machine.
To keep your cheese and bread board looking new, we recommend rubbing a food safe oil onto the wooden surface monthly or as needed.