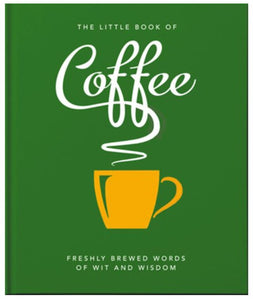 Whether you like yours with cream and sugar, short and black, iced in a frappe or mixed in a martini, coffee is more than just an energy-boosting beverage.  It can be the reason to get together with friends, a way to end a meal or even a prelude to romance. Life is richer with coffee.
If your idea of specialty coffee is a caramel latte, you will discover there are many ways to prepare and enjoy your brew as there are regions that product is.  You might want to try egg yolk and honey in the Austrian kaisermelange or pop a chunk of burning charcoal in your Indonesian kopi joss!
With fun facts, stories, trivia and quotes, this celebration of the world's favorite daily drink will delight any coffee-lover or connoisseur.