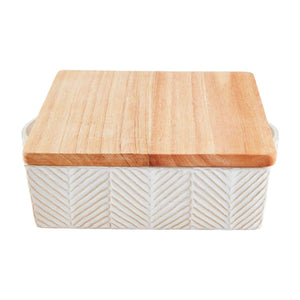 This Textured Baking Dish pairs so effortlessly with your kitchen dishes. The stoneware baking dish features reactive glazed coloring. The baking dish features a beautiful textural surface detail. The baking dish also comes with a wooden lid that can also be used as a kitchen trivet.

Care & Details:
8" x 8"
Stoneware

Ceramic is dishwasher safe. Ceramic is microwave safe.

Ceramic is oven safe.