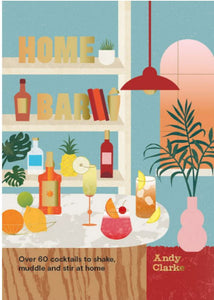 From basement bars to man caves to backyard tiki huts, for nearly 75 years, the home bar has been a beloved, boozy playground. The heydey of home bars arose in the US after World War II – men mastered multiple cocktails and hosted smoky, boozy affairs at home bars on Friday nights while kids were left unsupervised to watch inappropriate TV.
These days, the global pandemic has led us all to invest heavily in our homes and reluctant to mingle with randoms, so what better way to entertain than by having friends over for a few drinks? According to Instagram, today's home bar is an upmarket concept featuring a trolley, some swanky ice cubes, homemade syrups and reassuringly overpriced bottle of spirits. Sounds time-consuming, but help is at hand. In The Home Bar, drinks expert Andy Clarke reveals his top tips on fuss-free entertaining, without spending the earth. Andy will give advice on essential kit – from swizzle sticks to spirits, glasses to mixers, and more. His recipes will include classics favourites, batch tipples to save time, mocktails as well as his own boozy inventions, guaranteed to get the party started.
The Home Bar features over 50 recipes, as well as tips and ideas on how to host a cocktail party at home, minus the fuss. Andy will also suggest some simple snack and food ideas that will elevate your hosting skills, whether it's a Friday night cocktail for one or a festive soiree.