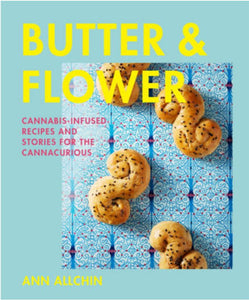 Straightforward recipes for cannabis-infused treats that will elevate your enjoyment of the recreational and medicinal benefits of edibles, accompanied by stories from those who partake.
A self-described wholesome hockey mom, Ann Allchin goes for bike rides, hangs at the dog park, and bakes on Saturdays. But much to her kids' embarrassment, when Ann bakes, it's most often with cannabis. She got her start baking cookies for a relative who suffered from debilitating migraines, and has since introduced many to the medicinal and recreational benefits of baking with flower.
Based on foundational recipes for cannabis-infused butter, oils, and sugar, this debut cookbook includes 40 recipes with classics like blondies and oatmeal raisin cookies, chocolate-forward desserts, fruity and nutty concoctions, and a few savoury bites. With vivid photos and sophisticated food styling, these are definitely not your roommate's lumpy hash brownies.
More than a cookbook, Butter and Flower also features stories from people who have had a transformative relationship with the plant. Ann has spoken with cannabis activists, a legal defender and defendants, entrepreneurs, medicinal users, and healthcare practitioners—the NHL enforcer, the sixties Berkeley hippie, the PTSD-afflicted U.S. Marines veteran. It's a diverse collection of stories of lives lived under the War on Drugs, including revelations with mental and physical health, the road to legalization, and hopes for the future of cannabis use.
Butter and Flower includes an opener on health and safety, guidelines on the basic math for moderate, straightforward dosing, and a glossary of cannabis terms to help newbies steer between CBD and THC, indica and sativa. Like the fun chaperone at the dance, Ann is irreverent and safe in equal doses, the perfect pal for when you're baking something "special."